LASSTEC - Container Weighing System
The Twistlock Load Sensing System is designed to measure the load in each twistlock of single- and twinlift spreaders.
Additional information
Each sensor measures the load of a twistlock which is then sent into a central data processing unit from where the information is sent to the crane PLC and to the TOS.
The system also provides various signals to improve operational safeties and it allows to monitor twistlock and spreader life cycles.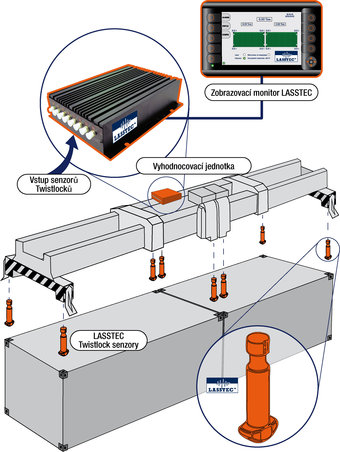 Use the LASSTEC - Twistlock Load Sensing / Container Weighing & Operational Safety System to:
Measure exact container weights in single and twinlift modes without interrupting the load cycle of the crane.
Determine load eccentricity of single-, twinlift and Mobile Harbour Crane applications.
Ensure all twistlocks are engaged when lifting a container.
Prevent hoisting if one or more container corners are still locked to the stack on the vessel.
Detect snag loads immediately.
Detect and prevent accidental lifting of a road trailer still connected to a container in stacking yard applications.
Monitor and record twistlock load cycles to optimize replacement intervals.
Provide spreader and crane life cycle management and track overload situations.
Downloads